Unit 20 Geography

Conversations:
1.Bing,an American tourist in Edinburgh for the Edinburgh Festival,has arranged to meet someone at the Greyfriar's Bobby,a public house,but he can't find it.He's walking east along Princes Street.
Bing:Oh,excuse me.Er.Madam!T.W:Yes?
Bing:Um,I wonder if you could help me.
I'm trying to find a pub called Greyfriar's Bobby.
It's on the Mond,somewhere down this-off this street.
T.W.:Well,that's right.Um,have you got a map there?
We can have a look at it.
Bing:Yes,Madam.Right here.
T.W.:I'll just show you on it.It's quite easy.
Now you're just here in Princes Street.
(Bing:Uhuh.)What you have to do is to walk along a litle bit and then turn right,and you go up the mound.You see up the hill there.There's a buil-...
Bing:Oh,yeah.The Mond.The Mond is the name of a road,is it?I see.Uhuh.
T.W:That's right.That's right,and you walk past the Assembly Hall.
Can you see there up on the hill,if you just look up to your right there?
Bing:That big building up there?OK.
T.W.:That's right.You just keep on walking past,and you go across the High Street,or the Royal Mile,as we call it...
Bing:Across it?And you cross over it?
T.W:That's right.You just keep going,and up on your right hand side,you'll see a little monument,and that's the monument to Greyfriar's Bobby.
You know,there was a wee dog..
T.W.:Well,if you just go in there,the pub is just next door.
I think you'll find it quite easily.
Bing:Great.I really appreciate it.Thanks very much.
T.W:OK.Goodbye.
Bing:Bye-bye.
2.Tom and Susan spent a few days in London last month.
They left their car at home and stayed in a good hotel in the centre of town.
They spent a lot of money.This is what happened the day they went home.
Susan:Why do we have to walk to the staiton?And where is it?
Tom:It's just down that road...I think.
Susan:Look!There's a policeman!Ask him the way.
Tom:All right.Excuse me.Can you tell me the way to Waterloo Station?
Policeman:Yes.Walk down this road,take the first turning on the left.
Then walk until you come to the river and...
Tom:The river?
Policeman:Yes.You can't see it very clearly from here.
When you come to it,there's bridge.Just walk across it.
Follow the signs that say"To Waterloo Station".You can't miss it.
Tom:And is it very far?I mean,how long does it take to walk there?
Policeman:About fifteen minutes,if you walk quickly.
Tom:I see.Thank you very much.
Policeman:Not at all.
Susan:Fifteen minutes!And with these heavy suitcases,too!
I think we ought to take a taxi.
Tom:Not at this hour.Look at the traffic.It's moving very slowly.
We can get there just as quickly as on foot.
Susan:Well,I can't possibly carry this case any farther.
Tom:All right.let me take it,then.
Susan:Don't be silly.You can't carry your case and mine as well!
Tom:Yes,I can.The cases aren't that heavy..hmm!
Susan:You see!They're heavier than you thought!
Tom:Perhaps it's not such a bad idea after all.
Susan:What isn't such a bad idea?What do you mean?
Tom:Taxi!Taxi!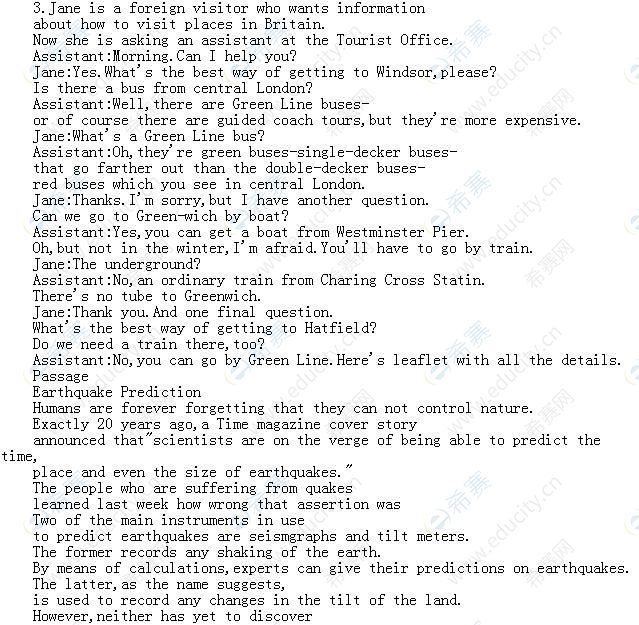 a uniform warning signal that preceded all quakes,let alone any sign that would tell whether the ecoming tremble is mild or a killer.
Earthquake formation can be triggered by many factors,says Tom Hocking,an expert on earthquake at the California Institute of Technology.
The actual cause of quake itself is the breaking apart of rocks at or below the earth's surface.
It is believed by scientists that two of the many reasons are the expansion and contraction of the earth's crust and continental drift,which are both complex processes.
So,finding one all-purpose warning sign is impossible.
One reason:quakes start deep in the earth,so scientists can not study them directly.
If an early sign of quake is found,it would still be impossible to warn humans in advance of all dangerous quakes.
Places like Japan and California are puzzled with hundreds,if not thousands,of minor faults.
Prediction would be less important if scientists could easily build structures to withstand shakes.
While engineering on earthquakes has improved dramatically in the past 10 to 15 years,every new quake reveals new weaknesses in"quake-resistant"structures,says an expert at Brown University.
In Kobe,for example,a highway that opened only last year was damaged.
In the Northridge earthquake,on the other hand,well-built structures generally did not colapse.
A recent report in Science adds yet more anxiety about life on the faulty lines.
Researchers ran computer simulations to see how quake-resistant buildings would fare in a moderate-size earth-quake,taking into account that much of a quake's energy travels in a large"pulse"of focused shaking.
The results:both steel-frame buildings and buildings that sit on insulating rubber pads suffered severe damage.
More research will help experts desian stronger structures and polssibly find early signs.
But it is still a certainty that the next earthquake will prove once again that every fault can not be monitored and every highway can not be compoletely quake-proofed.
I can't believe how good some of them are.
W:Is there any chance that you could ask her to stay around for a little bit longer?
I'll be getting back early Sunday.
M:I doubt whether we can get her to stay much longer.She is busy.
W:Well,if I can't get hold of her this time,maybe I'll have to wait till the next time she comes around.
C M:How do you do?
W:How do you do?What can I do for you?
M:Well,I've just got off an international flight,and I'm not sure which mode of transport I should make use fo on my trip.
So I need some advice.
W:Go on,please.
M:I'm planning to travel to some famous places-Beijing,
Xi'an and Guilin in China.Which mode of transport is the best for me?
W:Well,that depends on how much time and money you're going to spend on your trip.
M:I see.I'm traveling at my expense,so I want to save to both time and money spent on my way.
W:Oh,I know what you mean.
Now that you are in Beijing,you should visit the Great Wall,the Summer Palace,the Imperial Palace and Tian'anmen Square as well.
During your trip in Beijing,make use of the underground which is faster and cheaper.
M:How can I get to Xi'an?
You know I have to go to Beijing after I've finished all my travelling.
W:It's much cheaper to take a train to Xi'an than to fly.
In my opinion,you should take the train to Xi'an and then to Guilin.
You will not only save money but also have a close beautiful scenic trip.
After that,fly directly from Guilin to Beijing.
M:Good!That's a really good idea.I'll do as you have suggested.
Thanks.Thanks a lot.
W:Not at all!Goodbye!
M:Goodbye!
Supplementary Reading
Rivers and Lakes in the United States
Lying between the Appalachian Mountains and the Rocky Mountains is one of the world's greatest continental rivers-the Mississippi.
The Mississippi rises in the lake region in Noth Minnesota and flows south to the Gulf of Mexico.
It is 3 782 kilometers long.
But if it is measured from the source of its chief headstream,the Missouri,it is over 6 000 kilometers before it joins the Mississippi at St.Louis.
Another major river which flows from the rainy east at Pittsburgh,Pennsylvania and joins the Mississippi at Cairo,Illinois,is sthe river Ohio.
It is about 1 500 kilometers long.
These rivers are very important in American life.
The Mississippi has been called"Father of Waters"or"Old Man River".
The Mississippi and its tributaries drain one of the richest farm areas in the world.
They form a 19 000 kilometers system of waterways that are connected to the Great Lakes in the north by canals and serve as a means of transportation and as a source of fertility to the soil.
But just like the Yellow River in China,the Mississippi has frequently flooded its banks and caused much destruction.
The Ohio River has been called the American Ruhr(after the Ruhr River in Germany).
As in Germany,the area along the river is rich in valuable deposits of high-grade coking coal and is well-known for its steel industry.
The river provides cheap water transportation for raw materials.
On the pacific side ther are two great rivers:the Colorado in the south,and the Columbia,which rises in Canada.
The Colorado River rises in the snow-capped Rocky Mountains.
It flows 2 330 kilometers through mountains,plateaus and deep canyons and empties into the Gulf of California.
In the dry western country,both rivers are vital sources of life.
The Colorado drains and enormous area.
All the farms and cities of the southwestern corner of the country depend on its water.
Today a system of dams has been buillt on the river to supply water and electricity for farms,factories and homes.
The Rio Grande River rises in the southern Rocky Mountains and flows to the Gulf of mexico.
It is about 3 200 kilometers long and forms a natural boundary between Mexico and the United States.
Other well-known rivers include the Hudson which meets the Atlantic Ocean at New York City and the Potomac bordering the national capital of Washington.
The most important lakes in teh United States are the Great Lakes.
They are Lake Superior,which is the largest fresh water lake in the world,
Lake Michigan(the only one entirely in the US),
Lake Huron,Lake Erie and Lake Ontario.
They are all located between Canada and the United States except Lake Michigan.
These lakes are joined together by canals and are linked to the Mississippi River and its tributaries in the Interior Plants and the Atlantic Ocean forming a complete system of waterways.
Even though the cities on the Great Lakes are over 1 600 kilometers away from the sea,they can be reached by ships from the Atlantic Ocean and the Gulf of Mexico.
The Great Lakes are the economic lifeline of the Midwest.
They provide cheap transportation for materials such as iron ore,coal,and grain.
The upper lakes region is a land of great natural wealth,whereas the lower lakes region is a land of industries.
The cheap and easy transportation between these two regions is of great importance.